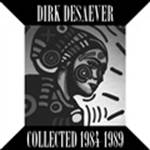 Collected 1984-1989 (Extended Play) 12″
Label:
Musique Pour La Danse
Set a reminder to get an e-mail notification when item is available
Musique Pour La Danse is thrilled to present its latest ?Collected? anthology, the label?s most ambitious release since it released an extensive anthology of music produced by New Beat pioneer Ro Maron back in 2015.
This time label managers Olivier Ducret (Muriaux, CH) and Ed Isar (Paris, FR) have focused on another essential Belgian producer: Dirk Desaever, the man behind White House White, A Thunder Orchestra and Danton?s Voice. Rare and sought after, his records fetch high prices among collectors. Some of his productions under these aliases have appeared in crucial compilations such The Sound of Belgium series as well as Walhalla?s Underground Wave, along with edits by Mick Wills for Biorythm and Marcel Dettman for Dekmantel.
What was initially supposed to be a simple reissue affair soon turned into a much wider project, as Desaever shared heaps of amazing unreleased material with the label. It seemed much more interesting to shed light on the dark side of this producer?s body of work, rather than to focus on content already reissued elsewhere.
After listening to noisy tape rips over and over, Ducret & Isar opted to break this release down in three formats (EP, LP distributed via NEWS and a cassette sold by the label direct), each one with different content. They entrusted sound engineer Lorenzo Targhetta with remastering the music and it?s impressive how much he managed to polish the sound without altering the unmistakable grain of music committed to cassette tape.
Add to playlist