Sale!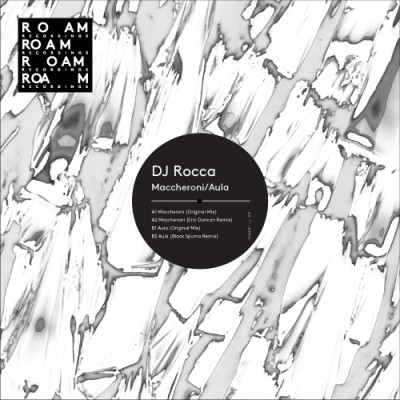 Maccheroni/Aula 12″
In stock
Label:
Roam Recordings
Roam Recordings' 38th release comes from Italian producer Luca 'DJ Rocca' Roccatagliati. Having previously released on Compost, Classic, Sonar Kollektiv, rekids, International Feel and currently working with Daniele Baldelli and Dimitri from Paris his impressive acid disco narratives were perfect for Roam Recordings.
The EP starts out with DJ Rocca's original 'Maccheroni' – a stunning blend of jazz, latin rhythms, and analog melodies – that shows undeniably the mastery of this dance music veteran. Joining the EP for a remix is New York's Eric 'Dr Dunks' Duncan (half of legendary DJ & production duo Rub n Tug & also half of DFA's 'Still Going). While DJ Rocca's version could just as easily be played at cafe as in the club Eric Duncan takes the remix into acid warehouse territory.
The EP continues with 'Aula', another excellent original from the maestro DJ Rocca. 'Aula' keeps with the theme of blended jazz, latin rhythms, and analog melodies, but in a much more subtle stripped down fashion. Also joining the EP to remix 'Aula' is Black Spuma, the production duo of Lauer (Tuff City Kids/Talamanca System) and Fabrizio Mammarella (Telespazio) who have a history of quality releases on labels such as Running Back, Beats in Space, Permanent Vacation, Rollerboys Recordings and International Feel. Together they rework Rocca's 'Aula' into a head nodding house music for house people textured track with a body moving bass line. A superb addition to the strong cast already on this EP.
Add to playlist