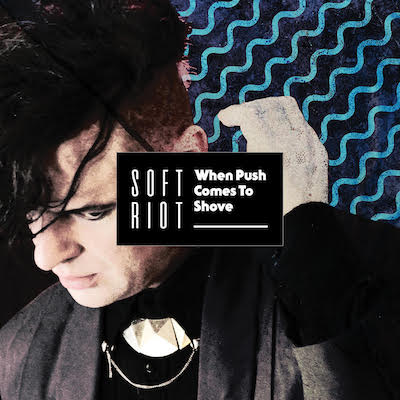 When Push Comes To Shove LP
Possession Records
In stock
When Push Comes To Shove is the seventh studio album by Soft Riot, the stylised musical alter-ego of Glasgow-based Canadian artist JJD.
Resonating with references from all corners of the synthpop's origins (DAF, Fad Gadget and John Foxx to name a few), Soft Riot's latest release nonetheless manages to retain its own individual voice, melding and reinterpreting its antecedents with a personal twist and an impressive demonstration of synth-craft and programming. Following on from 2018's The Outsider in the Mirrors, these eight tracks represent a change in themes and an evolution in production and sound.
The forthcoming single and album opener "Taking The Edge Off" sets out the Soft Riot manifesto, a propulsive future-synth tale of forging ever-forwards in an increasingly noisy world. "It's No Laughing Matter" is a hedonistic yet propulsive dance-floor slammer — shades of minimal synth and metallic Belgian new beat condense in side one closer "Fate's Got A Bone To Pick With You" and the dizzying italo-matic muscle workout "Don't Get Yourself Bent Out Of Shape" is the ultimate self-help smack down.
The outcome has been a sideways step into more new wave pop aesthetics, and a looser sound (underpinned by the warmth of the production). This overall makes the album groove into a more dance-floor orientated full sound, thawing some of the cold-wave angularity The Outsider In The Mirrors.
Soft Riot has previously released six studio albums, including a wide range of remixes for other artists including Lebanon Hanover, Keluar, Celebration and Attrition. He is also regularly touring the European underground synth/wave/post-punk circuit and sometimes beyond.
Add to playlist