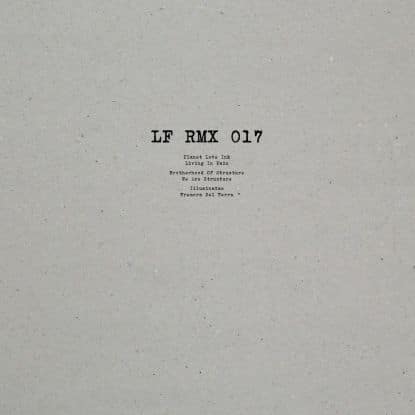 LF Rmx 017 (Len Faki Mixes) 12″
Label:
Lf Rmx
Set a reminder to get an e-mail notification when item is available
For this edition of the LFRMX-series Len Faki is turning to 1990's trance and acid. The bpm might be lower than back in the days, but there's just as much energy coming off these irresistible tunes in their updated versions. Featuring the original's sizzling synth work by Kompakt co-founder Wolfgang Voigt's early collaborative projects, Planet Love Ink strikes an upbeat chord in order to show off its grand piano break for maximum effect. Equally tapping into the early nineties, Structure – We are Structure is a weighty acid banger with no frills attached. Straight, honest and nailing era's vibe to the core. B-Side's all about old school trance, booming breaks, and epic synth-sweeps, in this instantly captivating, elevating and driving rework of Illuminatae – Tremora del Terra, a hymn to many back in the days.
Add to playlist