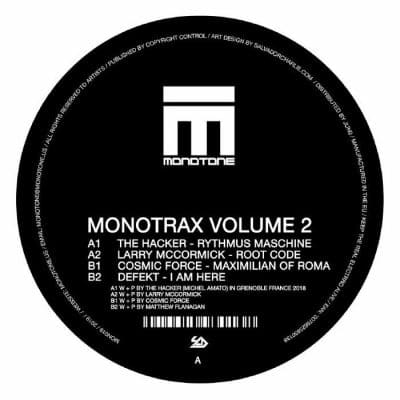 MonoTrax Volume 2 12″
Label:
Monotone
Set a reminder to get an e-mail notification when item is available
Hot off the heels of MonoTrax Volume 1, Monotone is not letting up with this vinyl only compilation of what could be considered some of the best Electro has to offer. To prove that things get started by legend The Hacker with this pure Electro outing. This one is a littler slower but still a powerful number that will put you into the groove. The second cut on this plater comes from the Monotone boss himself with Root Code. This is actually one of the hot tracks from his Intelectro album however this has not seen wax until now. This jam picks things up with his patented solid drum patterns while the rhythms build up until the middle breaks off into epic keys that lift the track even higher until the end drop into the bass. Side B starts off with the Dutch hero Cosmic Force. Maximilian of Roma is a hybrid of grooves and textures throughout. The energy on this carries the track throughout. Just the unique composition you expect from the Utrecht ninja! Last but far from least. The Irish man comes with a nice riding flow as DeFeKT shows why he is one of the hottest Electro/Techno artists at the moment. I Am Here is proclaimed as this riding tune is relentless and shows why this record is a diverse group of artists yet the spirit of MonoTrax is even clearer. To bring together top notch Electro producers for an exciting compilation series.
Add to playlist