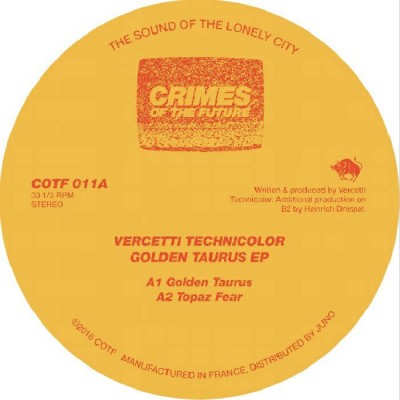 Golden Taurus 12"
Label:
Crimes Of The Future
Set a reminder to get an e-mail notification when item is available
Crimes Of The Future is the kind of label you can trust, no matter who is at the controls. The same could be said for Giallo Disco, and certainly the two labels orbit a similar space for lurid soundtrack-inspired hardware jams from the Italo age. Vercetti Technicolor is one half of the Giallo team alongside Antoni Maiovvi, and here steps out with a perfectly bombastic range of compositions that revel in B-movie brilliance.
"Golden Taurus" is the perfect slow-burner, those mono bass notes warming like no soft synth ever could, while "Topaz Fear" brings a more action-driven sequence into the mix. "Death Wish" too opts for a pumped up club scenario, while Heinrich Dressel smokes out "Golden Taurus" into a seedy slow-jam.
Add to playlist