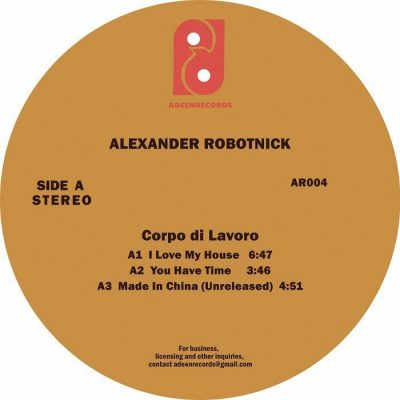 Corpo Di Lavoro (w/ Camille/Kai Alce mixes) 12″
Label:
Adeen
Set a reminder to get an e-mail notification when item is available
Adeen Records 004 installment comes from Alexander Robotnik. This all new material ep starts with the techy "I Love My House." A catchy retro feel groove record that's electro as only Mr. Robotnick can do. The next song is called "You Have Time" with a sure-fire crowd pleasing remix from NDATL's own head honcho Kai Alce. The next is "Made In China," and our staffs favorite. While Camille's version of "You Have time" is a dark deep jazzy version in comparison to Kai's more clubby feel, The last track is the original version of the song by Alexander himself. Three original songs and 3 innovative producers, What's there not to love?
Add to playlist