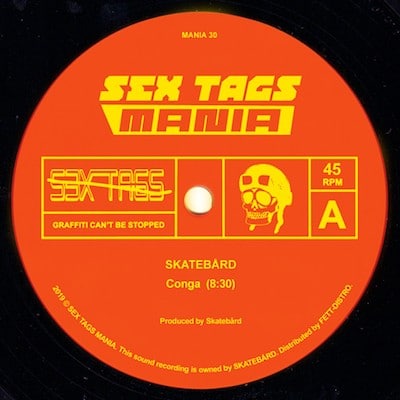 Conga / Live at Skurkeklubben EP
Skatebård
In stock
15 YEARS OF SEX TAGS MANIA! Established in Bergen 2004 and ran by DJ Sotofett & DJ Fett Burger the first 4-5 years as one of Norways only labels consistently releasing House & Techno on vinyl. Since about 2008/09 it's been operated by DJ Sotofett.
Skatebård's "Conga" has turned to be one of the most sought after releases from the Sex Tags Mania catalog with it's sparse pressing of about 2-300 copies – though most of the original stock was given away as the record gained minimal interest in 2005. The original record was cut with excellence by Lawrie Immersion – and pressed in his own plant – the now defunct Curved Pressings. MANIA 30 – the repress of "Conga" has as close to original sound as possible and it also carries a new B-side – the Crystal Bois live version of "Conga" from 2007, featuring Skatebård on male vox!
Released Sept./Oct. 2019!
Add to playlist