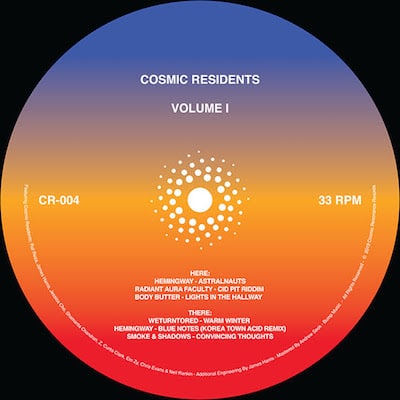 Cosmic Residents Volume 1
Label:
Cosmic Residents
Set a reminder to get an e-mail notification when item is available
"Introducing COSMIC RESIDENTS v. 1, the first in an ongoing compilation series from Cosmic Resonance Records. This series will showcase emerging talent from Toronto's underground creative electronic music scene.
This first edition features local favourites and Cosmic Resonance residents Radiant Aura Faculty (aka Raf Reza), KOREA TOWN ACID and Hemingway along with (and making their vinyl and Cosmic Resonance debut) Body Butter, WeTurnToRed and Smoke & Shadows.
On the A-side, Hemingway kicks things off with Astralnauts, a deep, dubbed out boogie breakbeat burner dedicated to explorers of the astral plane featuring fellow label don Chris Evans on rhythm guitar. Radiant Aura Faculty (aka Raf Reza) takes us even deeper with the mystical 'Cid Pit Riddim', a slamming 707 acid bender sure to melt any dance floor. Things get slippery with Body Butter's debut single 'Lights In The Hallway', a timeless operatic pop opus featuring Neil Rankin (aka Burt Sugar), Chris Evans (aka Mr. Bliss) and Hemingway behind the board.
On the flip side, things heat up with Shamanta Chandran's project WeTurnToRed (recently releasing their debut EP on ORO Records), featuring the progressive modular techno odyssey 'Warm Winter', an escape from Toronto's long and tumultuous blizzards. Emerging from the Mahogani Forest, Korea Town Acid reinterprets Hemingway's emotional ode to the jazz aesthetic 'Blue Notes' with her trademark cerebral rhythms and a masterful bassline that elevates the original to new heights. Closing it off, we have an amazing collaboration between Curtis Clark (aka Smoke of Lab.our Music) & Em Zy (member of Nikki Fierce) called Smoke & Shadows with their stellar debut single Convincing Thoughts that features Em Zy's hazy vocal emanations amidst a backdrop of mystical reverberations and a dark, powerful groove."
Add to playlist