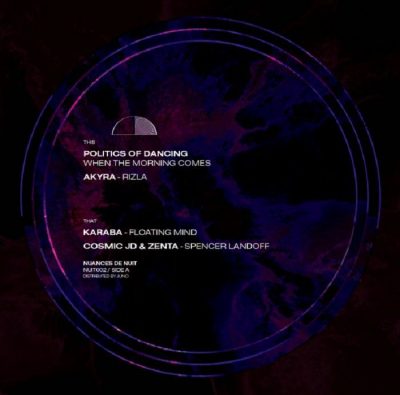 Nuances De Nuit Vol. 2 12″
Label:
Nuances de Nuit
Set a reminder to get an e-mail notification when item is available
Here's some good news: the second salvo from nascent label Nuances de Nuit is every bit as alluring as its predecessor. It follows a similar blueprint, too, offering up a quartet of cuts from emerging artists. Politics of Dancing get the ball rolling via "When The Morning Comes", a picturesque peak-time throb-job that layers twinkling piano motifs and starry synth stabs atop non-stop beats and thrusting synth-bass. Akyra offers up a dreamy, ear-pleasing fusion of rolling tech-house and spacey deep house (the excellent "Rizla"), while Karaba's "Floating Mind" is a tough but drowsy deep house bumper built around sturdy beats and squelchy electronic bass. Last -but by no means least – is Cosmic JD and Jenta's pleasingly wonky "Spencer Landoff", where off-kilter electronics, jaunty bass and inter-dimensional melodies ricochet off hip-swinging deep-tech drums.
Add to playlist