Photo: K2 – Ljubljana
We are delighted to announce the first in our brand new series of audio conversations and interviews with musical movers and shakers, with pioneers and trailblazers, with those that know what should be known: Pronto!
To inaugurate this new series, our roving reporter, Robbie Geoghegan, caught up with an Italian maestro who has made Ireland his home: Leopolda Rosa aka Lerosa. This Rome born musician has been at the forefront of electronics for more than fifteen years, releasing a raft of quality records and has recently joined the the Bordello family with his appearance on the second volume of Diamonds in the Night.


Who is Lerosa? Where are you from? How did you find yourself where you are now?
Lerosa is the name I have used since my first release on Dublin's D1 all the way back many years ago, I arrived in Ireland in 1995 all the way from Rome. Itchy feet got me here.
How did you first become interested in electronic music? Who were the first artists who grabbed your attention? What were your first experiences with it?
I think mostly late 80's radio in Rome where we had Faber Cucchetti's "Dimensione Dance" playing early hip hop and house and all sorts, I especially loved the mixes they made for the show which were heavily edited with reel to reel tricks and early sampling.
When I first met you Leo, around 2001 or so, we were both really into electronica, IDM and techno, has that interest continued?

I think it peaked with Autechre's most abrasive digital screeches of Conefield and Morr Music going full on folk electronica and I think from there I moved to stuff like Drexciya, Viewlexx and so on which appealed more to me but I still love all the music from the golden era; WARP, Otherworld, Pure Plastic, A.R.T, Rephlex and so on.
When did you first decide to start making music? Can you tell us about your first releases? The style? The ideas behind them?

It happened by accident while I had Nord Lead 2 on loan for a year back in 2000 or so, I was just curious and got mad into it. After a few years of dicking around with it and other very basic tools I managed to make the tracks which ended up on my first Ep for D1. I think the tracks very much reflect what I was into at the time, basic channel, Carl Craig, Nubian Mindz, Mark Broom, all the top cats who were releasing amazing dance music. Big influences.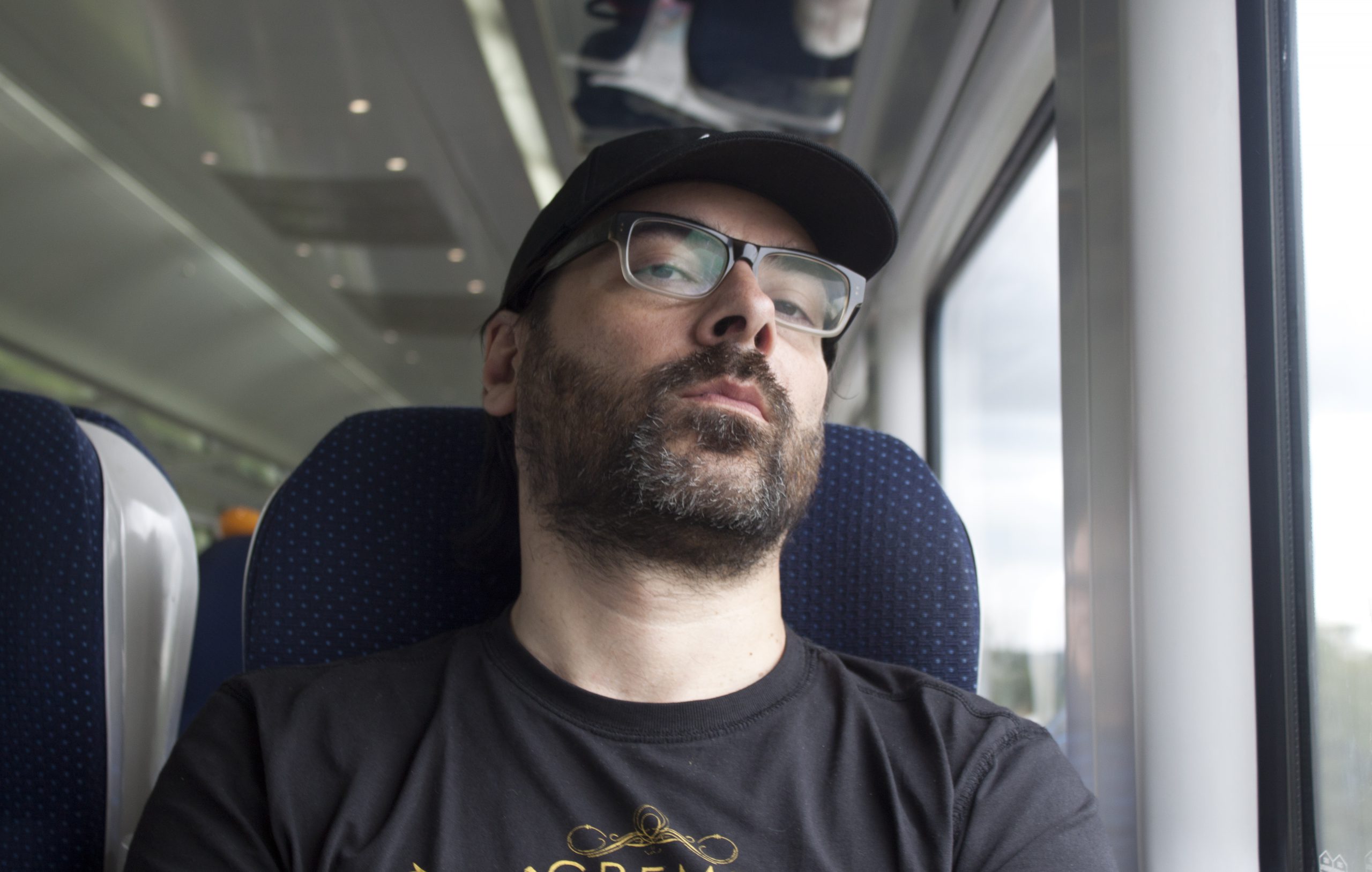 Photo: Sibyl Montague
Since then you have enjoyed fifteen years of success, can you tell us how you style has changed? Or do you think it has?
Success? LoL. But seriously, if I look at my catalogue I see a pattern that is very much shaped by what I'm listening to, so a lot of my early EP's reflect my love for house, Larry Heard, Marshall Jefferson, Theo Parrish, Chris Gray etc etc. I think as the years passed I started digging into earlier things from Prelude to Italo and 99 Records so this mish mash of boogie, italo, dub and post punk has creeped in into the productions, just check my first EP on Lunar Disko to hear all these things and more squeezed onto one record.
You have released on a spread of different labels, more than twenty if I'm right. Is there a reason for this?

For one I am very prolific, I try to put work in the studio every day and I like to finish tracks so I have a lot of material and one small indie label can't keep up with that so l tend to contact labels directly to submit work all the time. Secondly, I think as my style changes labels that are genre focused might not necessarily dig a new direction and so I migrate to different labels based on what I'm doing.
Tell us about your way of making tracks? How do you do it? Mug of tea and an idea or bus epiphanies?

I just sit there and start bashing button until something starts to take shape and then I sort of try to follow where it takes me, I find it impossible to decide beforehand what I'm going to do as it stops the track from going where it naturally wants to go and always end up in a rut, always better to trust the track, it will tell you if you listen.
You recently released your third full length album, Bucket of Eggs. Tell us about it.

That took quite a long time to coalesce, but it was worth the wait as I'm very happy with it. I loved the label and Tin Man and so on so I sent demos over the course of a couple of years eventually we were happy with the selection and Oliver (from Acid Test) suggested a track order and there it was. I think it allowed me to show my love for acid house framing it in a current context with obviously a lot of personal touches and curve balls.
I remember having a pint with ya on George's St one day we got onto the subject of italo disco. Can you tell us about your past and present experiences with this style from your homeland?
I don't think I knew or understood Italo until I started going to the Lunar Disko and Forza Italo parties here in Dublin as well a long steady diet of early Bunker, Viewlexx and Legowelt music. Growing up in Italy we didn't call that music Italo, it was just dance pop, also I was too young, so I caught the later years bits of it which had nothing on the hammers of 82/84. It was only when recontextualised later by the Dutch and when I had access to mixes with the real good stuff from the early 80's that I got into it and realised the foundational aspects of it for all genres from house to electro that followed it.
Tell us about your recent contribution for Diamonds in the Night Vol 2, how did the track come about?

Well as I was saying before as my tastes change so do my productions, I have been listening to a lot of good italo and have tried to incorporate it in the studio more in terms of general vibe rather than get to fetishist about equipment or sounding exactly like it's 1983. Also from my experience dancing to it I try to capture the rush and fun, if you are not buzzing, shaking your disco finger at it, you're not doing it right. Bordello has been on my radar since they started with Model Man so I am positively thrilled they accepted my track for this comp! As Otto said, it's all about them goosebumps.
You are based in Dublin. What is the music scene like there? Club nights? Records shops? Labels of note?
To be blunt, being the hub of corporate money laundering for America has turned Dublin into gentrification central with dull yuppies, oppressive closing times and unfeasible rents having pretty much killed most of anything alive and spontaneous, I'm also not going that much myself anymore so that also affects my view. Still, some great nights to be had at Tengu, good music at the Big Romance bar, All City still the best record shop and Lunar Disko my favourite label. Outside of Dublin I very much like Factory in Galway, Gulpd in Cork and Backwards in Limerick, there is still good stuff but not so much in Dublin anymore.
What are the plans for the future? Any releases coming up? Other projects?
Yeah, I'm working on an ambient LP with…I can't say yet. Also just wrapped up an EP with Lunar Disko and have requests for tracks for more Eps so I'm busy with studio work at the moment. If we ever come out of this lockdown I was going to play some live sets but I'll sit on that until we call all get mashed in some dingy basement, as you do.
And to finish, Leo what are three records you could not live without? Listen and find out!
Tracklist interview:
Lerosa – Women Flew Home (Photic Fields)
Carlos Alomar – Insomniac (Private Music)
The Black Dog – Cost II (GPR)
Lerosa – Canvas (D1)
The Revolving Eyes – Digitropic (Wrong Era)
Lerosa – Passive (Lunar Disko)
Lerosa – Sheffield (Acid Test)
Lectric Workers – Robot Is Systematic (Discomagic)
Lerosa – It's Hard (Bordello A Parigi)
Morgan Buckley – Innercity Hum (No 'Label')
John Carpenter – Escape From New York Main Title (That's Entertainment Records)
–
Interview by Robbie Geoghegan