Our intrepid reporter, Robbie Geoghegan, is delving once more into the underbelly of electronic music to get face to face, or screen to screen, with some of the best and boldest producers.
For the second installment of Pronto!, Robbie has managed to track down the nomadic Neud Photo. Usually found in New York city, this synth alchemist details what makes him, and his machines, tick. 
From earliest influences and the evolution of his production processes to his plans for the future and beyond, Neud Photo bares and explains all. The two take a leisurely wander through influences, like the Wierd parties, and delve deep into Neud Photo's own catalogue and collaborations, featured on labels such as Kraftjerkz, Mysidian, Rat Life and much more, in this music filled tête à tête.
Right Nico, let's get right into it. Where you from? Who are you? Where did you grow up? 
Hey Robbie, How's it going? This is Nico aka Neud Photo and I'm a producer/DJ from NYC. I'm originally from Detroit and I've been making music for around 10 years now with this project. I've been involved with a few other side projects as well like Xerox, Polymer, and Wall Street. I'm actually moving to Berlin as soon as I can get there.
When did you start becoming interested in electronic music and making your own?
I really started to get into electronic music around middle school. Around that time, underground music wasn't really accessible, and I really had to dig in record stores or listen to my friends' albums. I got hooked listening to lots of new wave and punk around that time period and really fell in love with the sound and aesthetics of it all.  When I was 14 my friend and I started a wavey band and I played synths. We were part of the 'weirdos' in school listening to music that wasn't on the radio. 
One of the great things about making electronic music is that it doesn't require the need to be in a band. You can be an introvert and hide away by yourself just focusing on your own productions. Being in bands was always a tough thing for me because of the scheduling and there was always drama. This way I can geek out all on my own with my gear boxes.
You're based in New York. Firstly, how is everything over there at the moment? When did you move there? How did the city influence your own sound?
Yeah, we got hit pretty hard back in March/April and our levels were spiking heavily. The city was really grim back then and still is in a way. We're now entering the second wave of this pandemic but things are pretty much under control. The bars and restaurants now have outside seating which is a very new thing in NYC and it feels kind of European in a way. There are zero tourists, everything closes by 11pm and it's very, very quiet which is very bizarre for this city. Pre-covid, people would start to heading out at 11pm!
As far as the music scene in this city goes, I'd have to say its changed quite a bit since I first moved here. There's still some good parties with some nice little venues like Bossanova and a little circle of Bushwick venues. Many new dance clubs have opened and they would draw in huge crowds.  There's a newer gigantic club called, Basement which is sort of like the NY Tresor. I was probably influenced by the NY downtown scene back then, clubs like Tonic and the Knitting Factory. Great unpredictable acts happening everyday.
The Wierd parties back in the day were certainly more wavey and experimental and the live shows were usually graced with an array of vintage synths. There was a great community vibe then as well. 
Tell us about your early releases. What styles were you going for?
When I first started this Neud Photo project I was just emerging from a former project called Consort. Jack was the other member in that band and he helped introduce me to synth production. There were a bunch of 80s tape sites that were floating around at the time that I was heavily influenced by some of those bands like A Blaze Colour and Ensemble Pittoresque. I started researching the type of gear they used and that opened up a whole new world for me. All of a sudden I began discovering a whole community that was into the same kind of sound like the R4R Forum and CBS. Synths were pretty affordable 10 years ago so I was able to collect many vintage synths like a mint TR-808 and Jupiter-4 for a fraction of the current prices.
Would you say your sound has changed in recent years? If so, how so?
I would say that I've still retained a recognizable vibe since the very beginning, although my sound has definitely evolved over the years. I constantly work at improving my production skills. In the beginning, I didn't know the first thing about post-production or getting a clean, robust sound. I'm still striving all the time to give space in each track and I always aim to make the elements work in the most simplistic way possible.
I think my music is in a constant state of flux. Over the years my musical taste has changed quite a bit. On my last trip to Spain I discovered a lot of great Bacalao records that I really dug. But even in the past few months during this lockdown, I feel my music has gotten much more brutal, raw and relentless. I jammed almost every single day and recorded about 12 tracks. I've also been venturing into quite a bit of acid house from the early 90s lately. New gear usually breeds new sounds as well.
Lots of experimentation in the studio process and there are many happy accidents that I leave in the tracks. I find the sampler very useful in my latest music production because it allows me to try out different sounds on the fly in a very rapid manner. It also allows me to utilize hundreds of different synth patches or drum machines that would certainly break my bank if I had to go out and purchase them all. Lately, I've been doubling or tripling tweaked samples to get a fuller more unique sound. Most of my new tracks have a combination of 4-5 different drum machines. I try to limit the drums and FM bass patches to the sampler and utilize external midi synths for more depth.
You've also worked with a number of other artists on projects. Can you tell us about those? How are they different from your solo work?
Yes, I've worked with a handful of artists in various other projects playing with different styles and genres. 
Xerox is my most recent one with Chris Campion from Multipleman. That partnership had a darker, heavier edge to it than most of my project. We ended up playing lots of shows in NYC – especially the SYNTHICIDE parties run by Andi Harriman. 
I also collaborated with Pierre Klein on a few projects: Wall $treet, Ceci Nes Pas, and Neud. Our love for HI NRG, italo, freestyle and day trading brought that project together. We actually have a long-lost classic coming out soon on Mysidian. Iva Visković from Zagreb was on vocals. 
INTRZN was another project with Cristiano Grimaldi (another downtown neighbor). We ventured into some psychedelic territories. 
Polymer is my electro project with Jean Lorenzo from Silent Em. The TR-808 was the central piece in that project.
It's really fun jamming with others that you can vibe with. It's a very different energy in the studio and we have a whole new set of influences that bring us together. 
You have just had a new 12", Dreamz, released on Mysidian. Talk to us about this release? What are you going for?
For the Dreamz EP, I was interested in the concept of the unconscious. Basically, the contents of dreams and nightmares within the current state of the global psyche. Unrealized dreams as a result from the crude reality of our times. Lucid fantasies play out as we sleep walk through a new reality.
We're living in an age where the roots of the unconscious states of man are being uprooted and plunged directly onto the surface.
For the sleeve art, I chose the classic photo of the woman that jumped from the Empire State building – it's simultaneously very beautiful and tragic… the way she's resting on top of the encased roof of the car is very peaceful in nature. The graceful, tragic display of her pose is what appealed to me and felt appropriate for the cover.
I wrote this a couple years ago and my gear setup changed quite a bit. I bought my first sampler and that changed my approach significantly. I would utilize a large variety of percussion/drums and bass lines on the same track. I also used quite a lot of FM synths/patches – more Yamahas like the TX81Z and DX synths. 
I would find myself tweaking the percussion extensively, duplicating each pattern over and over while revising each instrument and effect. It was an endless process of repetition and progression.
How is the music scene in New York these days? Any good club nights? Record shops worth a look?
There are still some good promoters that throw cool little parties like Synthicide, Remedy, and Facets. I think the scene leans more towards techno and EBM last I checked. 
As far as record shops, there are quite a few good ones like Commend, Two Bridges, and Aeon Books in Manhattan. Brooklyn has some great used record stores as well. Human Head, Material World, and others.
You do quite a bit of gigging, we even had the pleasure of sharing the same Dj booth here in Madrid. What is it about playing out that you enjoy? What are your plans for the future with it?
Yeah man that show in Madrid was fun… and messy..lol
DJing can be super fun and you meet quite a lot of new people. Who can complain about being paid to party? These days I've been prepping for upcoming live shows for when things start to open up again. My live setup is fairly compact now. Live can be a blast but requires much more preparation – it's also much more raw and improvisational. One of the biggest challenges of a live show is trying to keep it seamless between tracks. There's quite a lot of pre-prep for each track and you have to tweak all the gear on the fly… If I used a laptop I'm sure it'd be a completely different approach. 
Just recently, I signed up with the Ombra booking agency in Barcelona that throws an annual festival. I was fortunate to check out the last one in November and it was sick! I'm happy to be a part of this year's lineup if all goes well.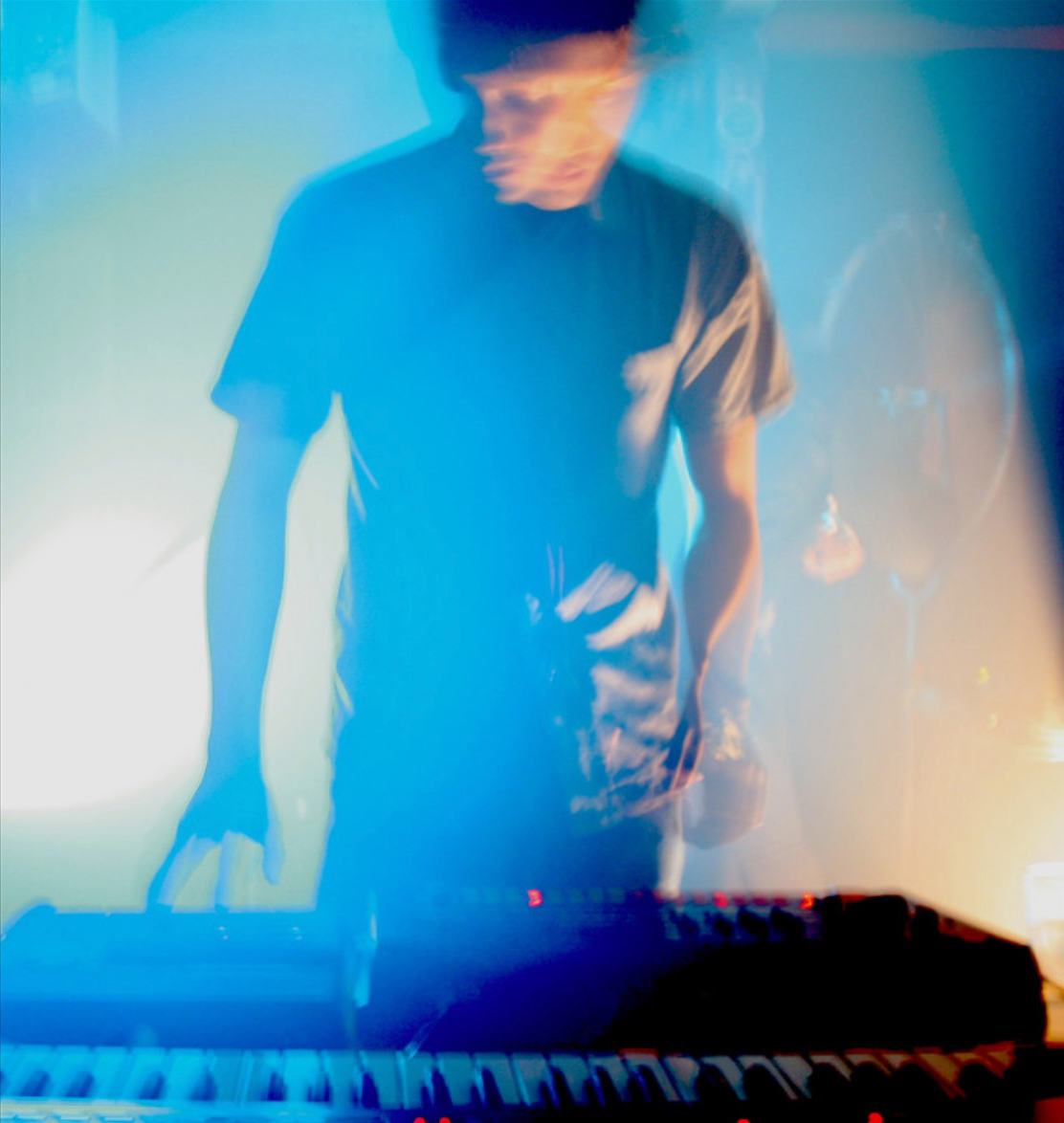 Photo by Zinkinc.com
What next Nico? What are the plans?
I'm super excited about finally moving to Europe. Both for the music and quality of life. There are many more places to play within a smaller proximity. When you're in NYC, you only have a few clubs to play. New vibes and scenes is what I look forward to.
I have some new releases in the works. A V.A. on LYO and one one M.U.S.A. and then a Neud track out on Mysidian.
If ya could go back in time and give your young self a record, what would ya give wee Neud Photo? Why?
It's an interesting question, but honestly I feel that I've been fortunate enough to discover many great records along the way and it's really helped influence my music throughout the years. If I had to pick something, I'd probably choose a label – New Zone Records. They had a great signature sound. A couple of my fave selections are by Konzept, 'Condemn Me (Part 2)' and Blind Vision – 'Don't Look at Me'.
There's also lots of great newer labels that I dig and many great producers pushing the envelope as well. Too many to name!
Tracklist interview:
Neud Photo – Simulations (Kraftjerkz)
Consort – Communique (Living Tapes)
Epee Du Bois – Misery (Wierd)
Led Er Est – I Wait (Wierd)
Ensemble Pittoresque – Maitre Satori (Clogsontronics)
Neud Photo – Internal Landscapes (Custom Craft)
Neud Photo – Silver Hours (Kraftjerkz)
Neud Photo – China Doll (Kraftjerkz)
Polymer – Move Type (Lost Soul Enterprises)
Wall $treet – Futures (Mysidian)
Neud Photo – Dreamz (Mysidian)
Neud Photo – Off-Lick (Mysidian)
Neud Photo – Wigwalker (Rat Life)
Neud Photo – Split (Unreleased)
Konzept – Condemn Me (Part 2) (New Zone) 
Blind Vision – Don't Look at Me (New Zone)