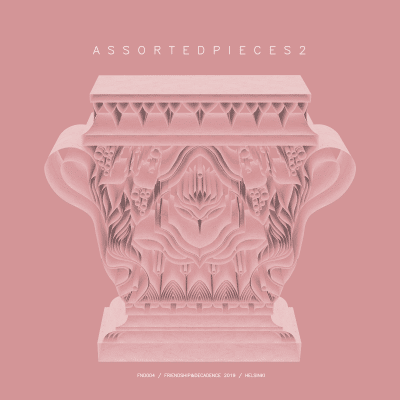 Assorted Pieces 2 EP
Friendship & Decadence
In stock
Detailed, smart, commanding, groovy. These are just a few words to describe the Assorted Pieces 2 compilation. This strictly in-house production by Friendship & Decadence contains tracks from such producers as Kade, Mirage Man, Poly Sone and Waltteri. Which is a intriguing mixture indeed.
Poly Sone's "Home killing is taping music" is a rugged and fast paced take on nordic techno. As the track was recorded on a four track cassette recorder the saturation on this cut is immense, yet pleasant. Definitely not your everyday cheapo lo-fi tune.
Deep, quirky and playful bottom heavy roller, "Calm" by Waltteri has a hint of spanish roast in its blend. Waltteri's debut on the imprint can be perfectly paired with a fun loving crowd during midnight or even around early mornings. Psychedelic multipurpose tool.
Kade's raw and unconventional track "Sanko" is a treat for the adventurous mind. Haunting arpeggios and vocal chops will give you the creeps, while the unrefined saturated rhythms will sooth you into a trance. Eccentric and hypnotic dance music.
"This track never starts" by Mirage Man lives by its name as it is a slowly unraveling and cinematic number. Regardless of its thick lower end, in the club environment this track might send the restless to acquire a beverage from the bar, but for the grounded minds who enjoy ambient this just might be the ticket. Play it yourself and see what happens.
Limited press of 150 pcs. 12" record includes a download code.
Add to playlist