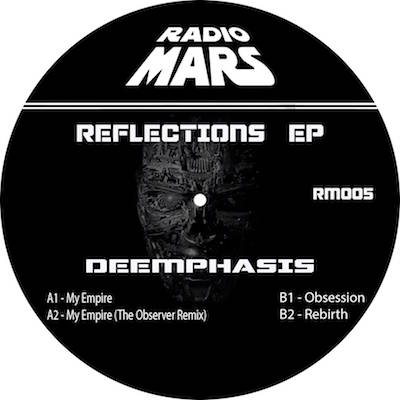 Reflections EP
Radio Mars
Out of stock
TIP
Limited to 200 copies
Radio Mars is happy to announce the next release
RM005 : Deemphasis – Reflections Ep
This Ep is particular, it represents the very essence of the Electro style, minimal beats, Robotic voices, melody and a destructive groove….
Deemphasis is a producer specializing in electro, acid and vocoder.
Originally from northern france, deemphasis was influenced in the late 80s by german, english, detroit and belgian techno sounds. in the 90s, he is very involved in the "demoscene" and uses "sound-tracker" to make music. Nowadays, he always uses the same approach.
it was at this time that he settled in clermont-ferrand, in the early 2000s, he began to do some concerts and he turned gradually to electro.
In 2010, deemphasis released its first 12 "ep" synthetic cells "on the umwelt label, newflesh records. Then, several ep and his famous album "mechanical beats" on ukonx recordings.
In this ep, deemphasis explores some of the feelings one can encounter in a post-apocalyptic world.
The opening title "my empire" is clearly oriented towards the dance floor and features a surviving robotic voice in a hostile environment.
An acid base consolidates the melancholy atmosphere.
The remix of "my empire" by the french producer "the observer" is a journey with some hypnotizing effects, deep experience and ongoing melodies take will take you to a different dimension, sounds rythmic, mysterious and variable… this remix are like a poetical description of some non-human race or nature of another dimension….
The b side begins with the track "obsession", presenting a long journey in the darkness. The mechanical rhythm sounds like a dehumanized factory fighting against continuous pressure.
The ep ends with a touch of hope, looking for a « rebirth », contemplating the galaxy full of stars.
Add to playlist