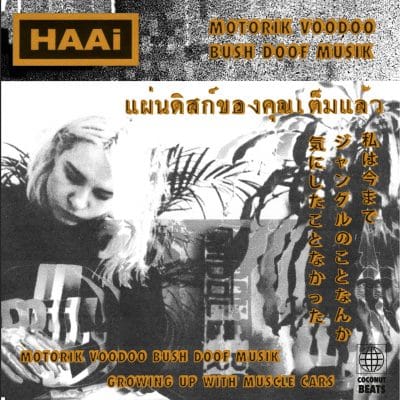 Motorik Voodoo Bush Doof Musik 12"
In stock
Label:
Coconut Beats
After the success of the digital release of Motorik Voodoo Bush Doof Musik last summer, HAAi is now preparing to release her first ever full length EP on vinyl.
Speaking about the EP, HAAi says: "This EP was made after I realised that what inspired me most was to combine my love of electronic music with the music I enjoy outside of the club. I decided to collaborate with friends from a couple of my favourite bands, including Fay Milton (Savages) who provides live drums on Motorik Bush Doof Musik and Taigen Kawabe (Bo Ningen) who performs on I Never Cared That Much For Jungle. For me, having live instrumentation on the EP adds an extra depth to the tracks & has given me a vision of how I'd like future releases to sound.
My fave track off the EP, Growing Up With Muscle Cars, is an homage to my step dad who repairs and restores old muscle cars. He also used to take me to the drags in my hometown when I was little. We would push the race cars out onto the track. Some of my favourite memz as a lil kid."
'Your Disk Is Full' is an atmospheric EP opener, and also became a favourite set opener for Denis Sulta and other DJs over the summer. Title track 'Motorik Voodoo Bush Doof Musik' raises the tempo with shimmering percussion and psychedelic looping vocals over a propulsive sub bass, prompting fans to ask for IDs in HAAi's recent mixes.
'I Never Cared That Much For Jungle' features the distinctive vocals of Taigen Kawabe of Japanese noise band Bo Ningen. The echoey samples are paired with a heavy hitting jungle-influenced production tailor made for the larger clubs and festivals HAAi is increasingly playing. A dub version of this track is also included in the package.
'Growing Up With Muscle Cars' brings a climactic end to the EP. Over the course of over ten minutes, the ambient intro gives way to an emotive breakbeat, with rumbling sub bass and glitchy synths making for a rich, multilayered production.
'Motorik Voodoo Bush Doof Musik' garnered widespread critical acclaim, not only from club rotation but also with plenty of radio airtime across BBC Radio 1, 6Music and Worldwide FM. The tracks gained even further recognition when HAAi included them in her award winning BBC Radio 1 Essential Mix.
The release comes just ahead of HAAi's landmark all night headline show at Mick's Garage on the 16th March – her first since the end of her celebrated Phonox residency. Her international tour schedule continues to fill up, with dates at Sonar Istanbul & Barcelona, Beat Hotel Marrakech, Paris's Concrete, DGTL, Nuits Sonores, Field Day and Love International in Croatia being just a few upcoming highlights.
Add to playlist