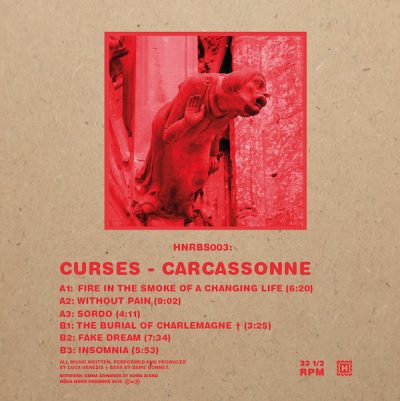 Carcassonne LP
Höga Nord Rekords
Out of stock
Luca Venezia, aka Curses, has with his Carcassonne-mini LP, written and produced a Cold wave dream filtered through how all the sci-fi movie soundtracks of the eighties should have sounded like; picture The Cure on a study visit in John Carpenters studio in 1983.
This six-track mini LP is Curses first release on Höga Nord Rekords and you can place his music beside other artist in the HNR artists stable, like Jamie Paton and Pardon Moi – eighties influenced dark and expensive sounding electronic music. Luca Venezia also solves the task of putting vocal elements in the tracks with sharpness and precision; the heavy processed reverberating overdubs float in and out on a tastefully low level in the mix.
Outside the safe studio walls the discourse is polarised and dumbed down to headlines and introductions, to guttural noises and simplification. Curses music is part of your antidote to this regression and is nor black or white nor simple or safe.
Add to playlist