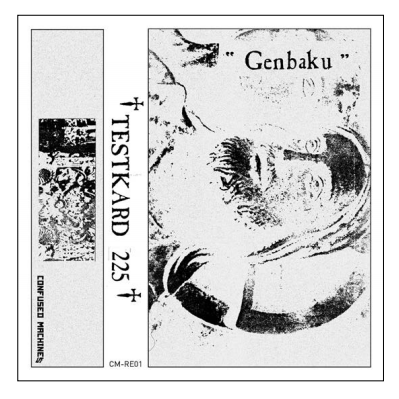 Testkard 225 Tape
Confused Machines
In stock
Testkard 225 was a pioneering industrial project by journalist Danny Beller, which released a handful of cassettes during the 80's and was a major in uence for the electronic and experimental scene in Israel.
Genbaku was the 2nd cassette Testkard 225 released and the 1st to be reissued by Confused Machines. It was originally recorded and released in 1988. Only 30 copies were of cially made and they were quickly sold out. However, thanks to "illegal" home taping, it reached hundreds around the world and made an important mark on the emerging industrial scene in Israel, while getting some decent exposure via the tape trading phenomena around the globe.
Recorded on a four-track with minimal electronic equipment in desert city Beer Sheva, Genbaku is about a world collapsing into dystopia, caused by a drastic event or a virus, that disrupts the existing order of things, kicking off with a seemingly optimistic opening, then going through a darker phase and eventually reaching a safe harbor.
After being considered as a "lost tape" for three decades, it was rediscovered and reissued for the rst time, mainly due to the persistence of Noam Rosenberg, owner of the Youtube channel "Boredom Lives Here", and now it's nally available again digitally and as a limited edition cassette with the original artwork via Confused Machines.
Add to playlist