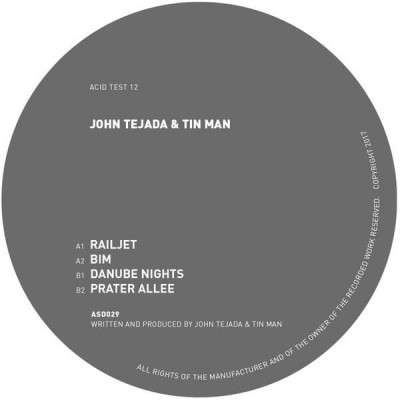 Acid Test 12 12"
Acid Test
In stock
After a first collaboration focusing on the City of Angels, LA legend John Tejada and acid innovator Tin Man (Johannes Auvinen), this time brooding on the latter's home city, and former's birthplace, Vienna. The Austrian capital is known as "the city of music" and the "city of dreams," two broadly aligning concepts that go far in describing this beguiling 12-inch.
The four songs were mixed down live to 2 tracks, created in the real world without a daw, or multi tracking, which has really captured the spirit of performance and improvisation. Succeeding "Railjet," a tense drum workout, comes "Bim," referring to the colorful trams that run through Vienna. Here, Auvinen sculpts his 303 into near-pizzicato form. The acid box is accompanied by stately pads making for one of the duo's most memorable tracks yet.
The next cut, "Danube Nights," references the mighty, ancient river, the flow motion mirrored by a couple of widescreen acid lines. A pensive lead and some melancholy chords emerge, but the drums roll right along like the water- tough enough for a heaving floor with a hint of fragility for the headphones.
The record concludes with the acidic "Prater Allee," named after idyllic, sprawling park on the banks of the Danube. The duo's love letter to Vienna is well-suited for travel, for the dance and for dreaming.
Add to playlist