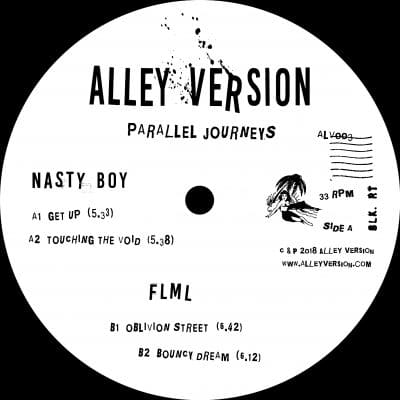 Parallel Journeys 12″
Alley Version
In stock
Following releases from Mituo Shiomi / Drum Machine and Takeshi Kouzuki, Italian imprint Alley Version is back courtesy of their third release, the split E.P. 'Parallel Journeys'.
This time about, the label welcomes Sähkö Recordings man Nasty Boy to the fold alongside the label owners, FLML. Opening the release is the sounds of Nasty Boy's thrilling 'Get Up'. A slow tempo dexterous and exotic deep house track. Nasty Boy's other original cut here is 'Touching the void', a more raucous track with a heavy emphasis on drum patterns and sharp, simmering synths.
The B side kicks off with FLML's 'Oblivion Street', an analogue-heavy cut deep house jam that's perfectly suited to those dark, colder nights. Culminating matters soon after is FLML's 'Bouncy Dream', a good-time house record whereby FM piano-laden vibes cause havoc from the get-go. Limited vinyl only.
Add to playlist