Sale!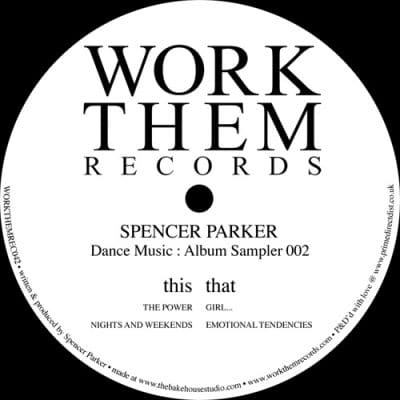 Dance Music Album Sampler 002 12″
Work Them Records
In stock
The second of three samplers, comprised of selected tracks taken from Spencer Parker's new album, 'Dance Music' out via his own label Work Them Records.
"There was no real concept behind the album, all I knew is that I wanted to do something honest. The tracks I make are the tracks I play in my sets and tracks I want people to dance to – that's where the title comes from." – Spencer Parker.
Part Two of the sampler opens with the uncompromising club cut & rave inspired 'The Power. Next up, the stuttering 'Nights And Weekends' is a nod to electro that has boundless energy & really shows off the respected DJ and producer's diverse production skills.
Kicking off the B side, 'Girl…' takes in the old school European techno sound relentless in its arrangement & firmly aimed at big dark spaces.
The melodic 'Emotional Tendencies' closes out the second of Parker's 'Dance Music' offering an introspective and deep side to the LP and highlights another facet of Parker's productions.
Add to playlist