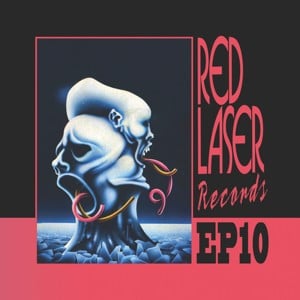 Red Laser Records EP 10
Red Laser Records
Out of stock
As we boldly enter a new decade, we cap off the pingin' naughties with another four bangers for your intergalactic nappers on this, the tenth instalment of our various artist EP series!
Red Laser Corp. engage tractor beams once again and beam up an elite squadron of galactic firepower for another of their well-lauded V/A EPs. Featuring two new ascending space cadets, ready to prove their worth on the universal playing field, alongside well-decorated star commanders Ste Spandex and Franz Scala; this latest Manctalo mission is destined for undisputed interplanetary acclaim.
First up, it's local interstellar fugitive, RL regular and black listed hardware abuser, Ste Spandex; whose titular tribute to one of dance music's most notorious labels is as fitting and arresting a piece of glistening, space disco-tek as its namesake deserves. Centered on triplet synth shards and a rugged acid line, Spandex-patented perx snap, crackle and pop as the track careers through the asteroid belts protected by a capacious force-field of electrostatic energy.
New signing Baba & Ganoush deploy a sleek, Euro-disco themed energy ball named 'Stockholm'. It's epochal synth array referencing classic Italo disco whilst revealing a precision sign-writing maturity that belies the fact that this is indeed the duo's first release!
Spurting tantalising synth solos and interlocking leads from its holographic sphere, you could easily been sent spiralling into the speaker stacks, eyes-wide-shut upon hearing this piece – note RLC will not be held liable for any injuries sustained!
Next we enter the cockpit of Berlin-residing, Italo-maestro Franz Scala, who on his debut sortie for RLR, directs the mother ship towards an innocuous star cluster where Ka Zan's 'Give Me Your Heart' is on permanent repeat. Scala utilises advanced time shift and audio defragmentation devices to re-engage its citizens with this hardcore cosmic climax, transforming it into an erupting supernova of Italo that blasts so far it's now detected across our own stratosphere.
Ondata's Martin Lefteri and Szymek Lawik are two new rookies snapped up from London and whose 'Feel The Drive' parties have established an alliance with Red Laser Disco members nationwide. Delving perilously into deep space via some meticulously programmed sequences and a dark, cold synthesis method, the pair show a fearless exploration of the outer cosmos on this initial exercise for the label. .
Add to playlist