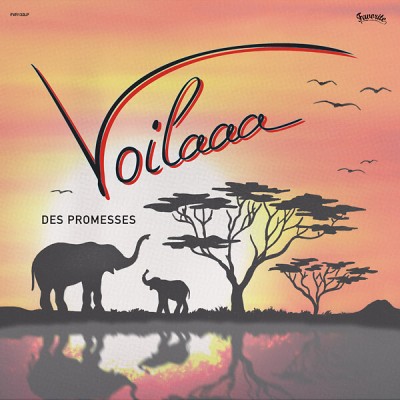 Des Promesses 2LP
Favorite Recordings
In stock
Voilaaa is one of the many projects led and produced by Bruno 'Patchworks' Hovart. This time exploring the wide spectrum of the African and Tropical Disco scene, he received a massive international support for Voilaaa's first album, On te l'avait dit, released late 2015 on Favorite Recordings.
Following the success of On te l'avait dit, and pursuing the same direction combining the festive, yet sometime futile nature of Disco, and the instinctive, deep, sometimes rough nature of African music, Voilaaa's now presenting its 2nd effort, Des Promesses.
The 13 tracks of the album are again up to expectations, and Voilaaa has not finished feeding international dancefloors with heavy Afro-Disco music. Alongside Bruno at the production, singers Pat Kalla and Sir Jean are back providing their carefree lyrics and Afro vibes, and Senegalese artist Doctor Lass comes to extend the team, with 3 brilliant titles, including a great Funky cover of the classic 'Mandjou' by Salif Keita and Les Ambassadeurs Internationaux..
Add to playlist