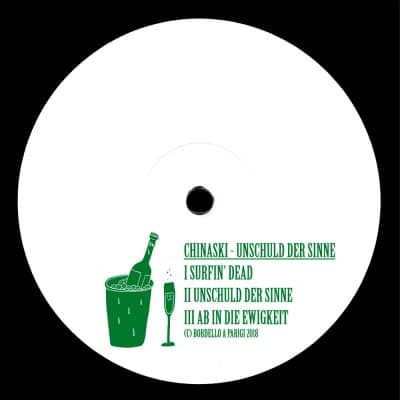 Unschuld Der Sinne 12″
Label:
Bordello A Parigi
Set a reminder to get an e-mail notification when item is available
It's 6:66am when Chinaski elbows his way on to the floor. Leather jacket. Metal studs. Bare arms. Tattoos. With his hand freshly stamped this newcomer brazenly strides into the Bordello. His style? Try to pin it down. Beats parry and pound with the intensity of an EBM hammer. Yet, strolling through those meaty kick drums stride shimmering melodies that sport elements of new beat, italo and techno. The rakish grooves of "Surfin' Dead" occupies the A-Side. Bold rhythms fly in the face of burbling bass and cascading chords as Chinaski takes control. A body pumping work out follows. "Unschuld Der Sinne" throws beat shaped fists from the needle drop as a brawl breaks out. Born in the smoke machines of Belgium, this bruiser balances its rough edged rhythms with beaming bars. There's to be no relenting as the closer screams like a nitro-fuelled missle. "Ab In Die Ewigkeit" soars is a muscle-bound sky rocket set to keep any floor rumbling to the break of dawn.
Add to playlist