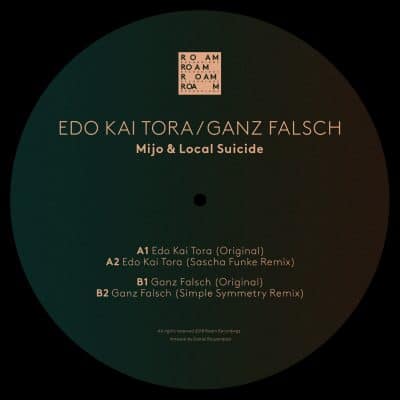 Edo Kai Tora / Ganz Falsch 12″
Roam Recordings
In stock
Berlin Duo Local Suicide and Mexican Producer Mijo join forces to deliver two stunning original works for the latest installment of Roam Recordings. Edo Kai Tora is a uptempo main time jam with a nice vocal weaved through driving electronic stylings. Ganz Falsch has an electro boogie feel with cosmic synths and a fun vocal rhythmically tying it all together.
Supporting the EP are two excellent remixes from renowned artists Sascha Funke and Simple Symmetry. Sascha Funke's elegantly dark version creeps in with a hypnotic and captivating energy while Simple Symmetry moves into party mode with pop sensible guitars and heavy wonkiness perfect for picking up the vibe at any party.
All four tracks are standouts on their own and together form an outstanding versatile EP and excellent addition to the Roam Recordings catalogue.
Add to playlist