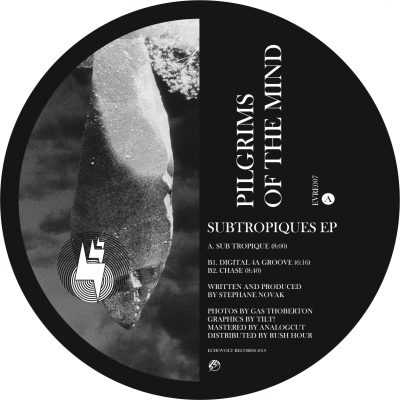 Subtropiques: The Early Excursions (1993 – 1994) 12″
Label:
Echovolt
Set a reminder to get an e-mail notification when item is available
Three tracks from the early 90's era and coming out of the sweet sonic brew that was cooking on the West Coast at the time: elements of techno, ethno, and general smoked-out trippyness abound.
Pilgrims of the Mind formed part of a small but dedicated and burgeoning group of Vancouver electronic music producers in the early 90s. On this EP, 'Subtropique' finally gets the bass and level back as originally intended. Chase was the first POTM track ever released, but only now does this downtempo gem finds itself on vinyl. And 'Digital 4A Groove', a track whose spoken word snippet was taken from a recorded phone message left on the producer's answering machine in 1993, also gets remastered from the original tapes. Time for a dusting off!
Add to playlist