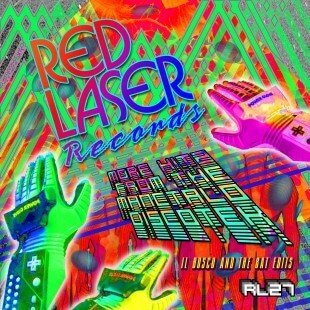 More Hitz From The Manctalo Discotek 12"
Red Laser Records
Out of stock
Red Laser CEO Il Bosco selects four Manctalo nukes that rock the labels Manchester Party on a regular basis. The Manchester DJ and producer carefully edits these rare or ignored tracks with the help of the another well-known local who only wishes to be known as 'The Bat'.
Play That song is like The Smiths decided to have a go at boogie and creates an amazing mix of indie electro funk that shouldn't work but does. A Little Happiness has had the big Italo collectors around Europe searching frantically for the original of this lost gem since the track was aired on Red Laser's Soundcloud. Who will find it first?
Pac Manc is an amazing dreamy slice of electro boogie ripe for the dancefloor and finishing the EP in style is the heavy drum lead afro funk of Shotgun Rules Again with a synth bassline so big you could see it from Mars. This one will live in DJ bags for some time.
Add to playlist