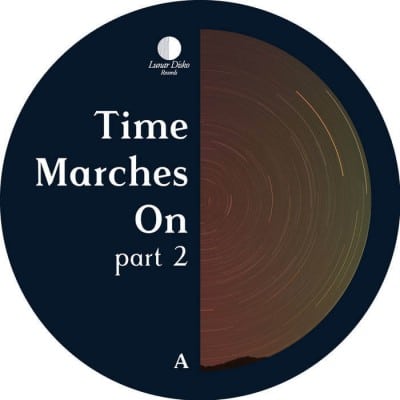 Time Marches On (Part 2) 12"
Lunar Disko Records
Out of stock
You can always rely on Dublin's Lunar Disko Records to provide the heat; this time it's in the form of some heavyweight electro vibes by the industry's best and brightest. But this is no surprise given the imprint's invariable doses of quality.
First up is Dutch maestro DJ Overdose with "Arecibo", a comparatively more pensive and introspective electro appearance than his usual work, but TR One's "Escape From Enceladus" takes this pensive sway of synths and crystal-like sonics to an even deeper level.
Raiders Of The Lost Arp kick off the flip side with the smooth and suave flow of "Equinox", this one belonging more to the house end of the spectrum, whereas Automatic Tasty comes through with a quirky little digi number with the aptly odd name of "I Can't Find My Own Manual (How Therefore Am I To Restore My Factory Settings?)". A tidy little blast of synth-filled goods.
Add to playlist