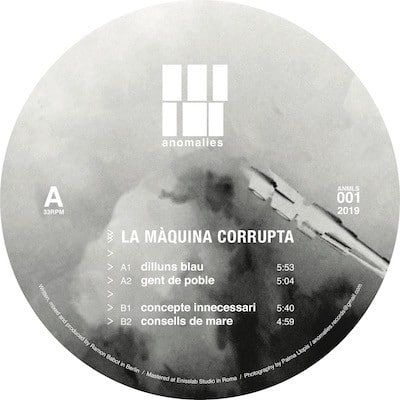 Dilluns Blau EP
Anomalies
In stock
First release on the freshly launched label Anomalies comes from one of its co-founders Ramon Babot aka La Màquina Corrupta.
Lead track "Dilluns Blau" – which stands for Blue Monday in Catalan – is a techno track not specifically built for the dancefloor but that can also work on it. A rather moody pad appearing at mid-length of the track reminds us that our serotonin will not last forever and that Monday might come soon. Second track "Gent de Poble", which means "Village People", features a relentless bassline that can be as intense as some of those people who live in a small town.
On the B side, "Concepte Innecessari" provides the perfect soundtrack for self-introspection in the form of a not so conventional groove. The last track on this EP is "Consells de Mare", a beautiful electronic lullaby that your mother would sing for you if she were a synthesizer.
Add to playlist