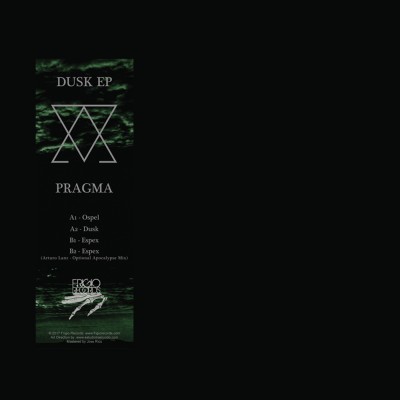 Dusk 12″
Frigio
In stock
Maurizio Martinucci (aka TeZ) is being warmly welcomed back into the Frigio fold. Following his work with Most Significant Beat, a partnership with Saverio Evangelista of Esplendor Geometrico, this Italian artist, and member of Clock DVA since 2010, is flying solo on new wings: Pragma.
Martinucci examines, scrutinises and magnifies mechanics. And under such inspection all things change. Drums blossom into serrating melodies. Snares, hi hats, toms blur into one as they are distilled into a heady brew. At times this reduction is sour and sharp, as in the cruel cud of "Ospel", at others its strangely smooth like in "Dusk." The lines that divide electronics and techno all but disappear, dissolved into insignificance under Pragma ́s barren palette. "Espex" is stripped. Percussion is dipped in distortion, bass bleached by hiss as the reductionist manifesto is applied. An artist cut from the same caustic clothe closes.
Arturo Lanz of Esplendor Geometrico amplifies the fuzz and static of "Espex", shaving away all decoration to leave all but a harrowing husk of cables, wires and pain.
Add to playlist